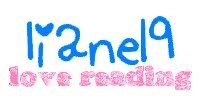 Listed here is all the book I have read in 2010.
Ok so I dont have the track of I read from January to March. because i only started
reading novels last July and the only book i read that year is only Twilight series books
and actually i read it about 7 times all of that 4 books. haha you can imagine it really!
Midnight Sun (Twilight, #5)
Evermore (The Immortals, #1)
Blue Moon (The Immortals, #2)
Shadowland (The Immortals, #3)
Hush, Hush (Hush, Hush, #1)
(that books are really really influenced me alot in reading YA novels)
Vampire Kisses (Vampire Kisses, #1)
Kissing Coffins (Vampire Kisses, #2)
Vampireville (Vampire Kisses, #3)
Fallen (Seven Deadly Sins, #2)
Perfect Chemistry (Perfect Chemistry, #1)
Welcome to Temptation (Dempsey's, 1)
The Wallflower : Yamatonadeshiko Shichihenge
by Tomoko Hayakawa, David Ury
The Write Stuff (Love Letters, Book 3)
A Kiss Between Friends (Love Stories)
Road Trip to Passion: Ellora's Cave
by Sahara Kelly, Vonna Harper, Lani Aames
Leaving Paradise (Leaving Paradise, #1)
The Dark Divine (The Dark Divine, #1)
Megan Meade's Guide to the McGowan Boys
Twilight: The Graphic Novel, Volume 1
by Stephenie Meyer, Young Kim
by Emma McLaughlin, Nicola Kraus
The Short Second Life of Bree Tanner: An Eclipse Novella
Soulmates (Kissed By An Angel, #3)
Infinity (Chronicles of Nick, #1)
Shadowland (The Mediator, #1)
Ninth Key (The Mediator, #2)
Reunion (The Mediator, #3)
Darkest Hour (The Mediator, #4)
Haunted (The Mediator, #5)
Twilight (The Mediator, #6)
Boy Trouble (The 310, #3)
Dark Flame (The Immortals, #4)
French Kiss (Diary of a Crush, Book 1)
Shiver (The Wolves of Mercy Falls, #1)